Welcome!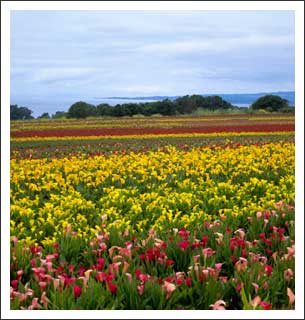 As a global market leader in the breeding and production of colorful calla lilies, Golden State bulb growers supplies calla bulbs to wholesale markets around the world. We produce tens of millions of flower bulbs and cut flowers on over 1,000 acres of California's central coast. Our headquarters and most of our manufacturing facilities are located very close to the beautiful Monterey Bay.
Whether it's mini calla lilies, zantedeshia in pots, calla lilies, colorful calla lilies for growing in pots or cut flower calla lilies, Callafornia Callas® from bulb manufacturers, Golden State enjoys a worldwide reputation for consistently high quality. Our Callafornia Callas ® fill more pots with more flesh and more flowers, and our Calla genetics account for a larger percentage of the cut flower trade than Callas supplied from any other source.
Our volume business is limited to brokers, wholesalers and shipping companies worldwide. We do not sell directly to manufacturers, retailers or consumers. We encourage home gardeners to visit our home gardener page for information about our product, as well as links to e-commerce sellers and mail orders.
---
Visit Callafornia Callas® Days in Netherlands


Volgende week, van 20 tot en met 23 mei, presenteert Golden State Bulb Growers haar complete assortiment Calla rassen. Meer dan 45 Callafornia Callas® rassen zijn te zien bij de Floratuin, Rijksweg 85, 1787 PK Julianadorp. Tijdens de Callafornia Callas® Dagen staan de introducties voor komend seizoen, waaronder Strawberry Delight en de rassen uit de Callafornia® serie centraal. De nieuwe Callafornia® serie is kleurrijk, compact en zeer rijkbloeiend. De Callafornia Callas® Dagen zijn dé gelegenheid om het complete Callafornia Callas® assortiment, geteeld onder Nederlandse omstandigheden, te bekijken.

De Callafornia Callas® Dagen zijn van 20 tot en met 23 mei dagelijks geopend van 10.00 tot 17.00 uur. Voor meer informatie neemt u contact op met Kees de Graaf; tel: 06-30395376, mail: kgraaf.goldenstatebulb@casema.nl

Graag tot ziens in Julianadorp!


From May 20-23 Golden State Bulb Growers will present their complete Callafornia Callas® line in the Netherlands. More than 40 varieties will be on display at the Floratuin, Rijksweg 85, 1787 PK Julianadorp, Netherlands.

The highlight of the show will be introductions for the coming season including the Callafornia® series, Strawberry Delight and Gold Fever. The Callafornia® series is an exciting new series of colorful, compact and highly floriferous callas.

Callafornia Callas® Days in the Netherlands is an opportunity to see the complete Callafornia Callas® line grown under Dutch conditions. The Callafornia Callas® Days are open daily from 10 am to 5 pm . For more information, please contact Kees de Graaf. cell: +31 (0) 630395376, mail kgraaf.goldenstatebulb@casema.nl
.
---